Massage by an Attentive sub
Domme Morrigan
She led me away from the public area and to a room with a low padded table, soft lighting and a wonderful scent I couldn't quite place.  Sometimes my life, both public and private, can really cause me some stress.  Contrary to what many believe most dominants don't take their stresses out on some poor but willing subbie.  In fact, it's not a good idea at all.  When you're responsible for someone else's well being you need to be calm and fairly stress free.  So at a recent kink event I really wasn't in the mood to play.  I'd had a long, hard week.
I found myself n the company of a quiet, older submissive who I had often seen at these gatherings but hadn't made the effort to get to know.  I'm not sure why, but for some reason she seemed quite content to sit near me and be of service.  She brought me a cold drink and she placed a stool beneath my feet.  My interaction with most of my submissive playmates is usually fairly intense and active.  It was nice to have someone simply be there.  We didn't even speak much, we just sat and watched others play.
After a while, with downcast eyes and a soft voice, she asked if I would permit her to try and ease the tenseness she could see in my body.  I didn't answer right away and she sat silent and still while I considered her offer.  I knew she was unattached and that I wouldn't be stepping on another dominant's toes by accepting.  While relaxation was not my normal goal at these group meetings that night nothing sounded better.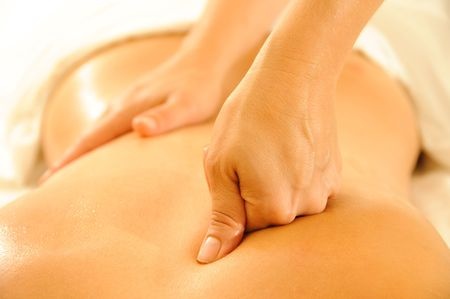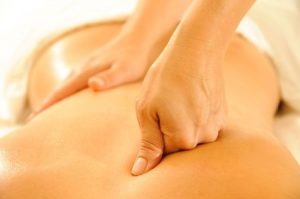 The room was warm and when she asked permission to remove my clothing I simply gave a nod.  Her hands were quick and she neatly laid my clothes on a nearby chair, careful that nothing touched the floor or lay so that it would crease and wrinkle.  I climbed onto the table and lay face down, closing my eyes and taking several deep breaths.
Warm hands covered in scented oil moved slowly over my back, letting me become accustomed to her touch.  After a few blissful moments of simple touch her hands began to press into my muscles more and more firmly.  I couldn't help but release a moan, partly from relief and partly from pain.  I hadn't realized just how tense and knotted my muscles had become.
I'm not sure how long this massage continued, I only know that there was no part of my body left untouched.  From the top of my head to the bottoms of my feet she worked her magic until I had become little more than a puddle of limp happy flesh.
There may be some who would see this as a wasted evening.  Where were the whips and chains and the cries of submissives in pain?  But in my world it isn't always about that.  Sometimes there is satisfaction to be found without all of the trappings of pain and pleasure.  My new friend had a need that night to serve, and she fulfilled a need I hadn't realized I had; the need to be cared for.