How to Build a St. Andrew's Cross
DIY: Build a St. Andrews Cross: You don't need to be a master craftsman to create a simple St. Andrew's cross for your dungeon. If you are familiar with a simple 'angled cross lap' joint you will likely understand the concept behind creating a cross of this nature. A cross lap joint is created by cutting out a fraction of the middle part of a plank of wood to 55 degrees (or thereabouts), then, mirroring the joint on an opposing plank in order to marry the two together and create an 'X'.
Getting started is easy but you will need sufficient space to work in so that you are not cramped, and you can turn the planks around without hitting one of your ornaments or fittings. Make sure the room is well ventilated, also, so that you don't get saw dust everywhere (or do it outside).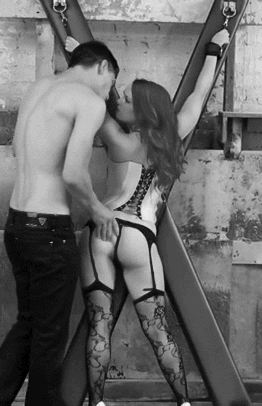 Materials Needed:
2 6"x 2"x 80" planks of treated hard wood
2 4" x 2" x 60" planks of treated wood
1 3/8″ x 8″ carriage bolt
10 4" metal hooks/clips (Heavy duty)
4 2" screw in wall anchors
4 3/8 4" Wood screws
Tools Needed:
Screw driver
Drill
3/8″ drill bit
Measuring tape
Spirit level
Carpenter pencil
Tenon saw
Chisel
Countersink drill bit
Sand paper (120)
Protractor
Prior to building, sand down all the wood and lightly paint/varnish it in the color of your choice.
DIY Plans to Build a St. Andrew's Cross
Step 1:
Measure a spot on the wall at 90" high and mark a horizontal level line. Use the level to mark the length of the 60" planks and draw a line above where they will be fixed. Repeat process for the lower plank and mark the line at 2 feet from the ground.
Step 2:
Drill holes for the wall anchors 4 inches from either end of the planks. Make sure they are level. Screw in the wall anchors until tight.
Step 3:
Secure the top and bottom planks into place with screws. Your two bars should now be 78 inches apart and parallel to one another.
Step 4:
To make the St. Andrew's Cross place on plank flat down and mark a 55 degree angle with the protractor. Mark a point half way through the wood so that you are cutting out exactly the amount you are leaving there (for a 2 inch thick plank, cut 1 inch deep). Using the Tenon saw, cut from one marked line to the opposite bottom corner of the other line. Cutting from one corner to the other is easier because you leave a smaller chunk to chisel out. Once you have cut across both lines you will be left with a small triangle shaped heap which you can then chisel out until the cut out is flat.
Step 5:
Repeat step on other plank so that the two marry together.
Step 6:
Mark the center point and drill a hole for the carriage bolt. Spear it through and tighten the nut.
Step 7:
Place the Cross portrait style against the middle of the two parallel bars and drill holes through where all points meet. Secure with wood screws.
Step 8: Secure the hooks/clips in strategic places for the ankles and wrists.
Your St. Andrew's cross is now ready for its first subject. You can also add your own accessories, such as spreader bars, hand cuffs, ankle cuffs and such, to get a more professional look.
---
Video: The St. Andrews Cross at London Dungeon Hire