In Chains We are Bound to Have Fun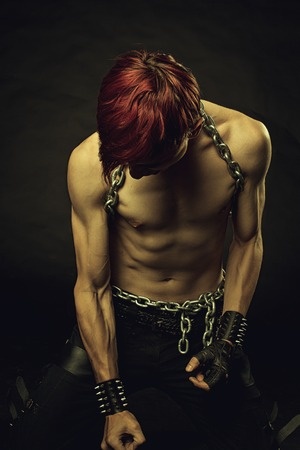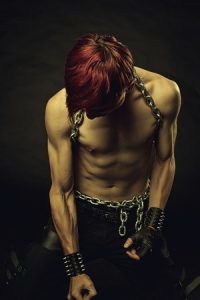 The sound of heavy chains dragging across the floor made the room seem as though Marley's Ghost was about to walk through, howling and whining in a 'woe is me' kind of way. It wasn't Marley, of course, but greg, the submissive. greg had been a very bad lad and was being severely punished for his infractions against Master. He was not allowed to stand upright for at least 12 hours but was made to crawl on the floor, dragging the heavy links behind him and around him. He was trussed up fully with one part of the chain short enough to prevent him from actually standing upright at all and another part linked to a cock ring he was made to wear.
Every tug in the wrong direction was an immediately cause for pain from the poor slave boy, but…and I say this very sternly….he was not allowed to complain, speak or whine. In fact, any form of noise other than that he was permitted to make was strongly discouraged with more pain.
If you are at all curious who Master is, that would be Me. greg is My property and has pledged himself to me for as long as this shall continue to be My will. greg is also my live-in boyfriend. However, on the days where we are Master and slave I have My way, no matter what I choose to do to him.
greg loves chains. he loves the feel of them on his skin, the way they bear him down, sculpt him with their thick, heavy metal inks and indent his skin, making it sensitive for My pleasure. This night, we are in our dungeon, which is made to look like the crypt room of an old Scottish castle. The walls are stone and have iron rings embedded into the walls to keep the chained one from escaping.
There is a St. Andrew's cross against the back wall; which I shall implement later, a massage table, used more for hideous torture than for relaxing and a tray of surgical devices and apparatus that may come in handy some other evening. On the far wall is My collection of paddles, whips and floggers which I take particular pride in and that slave greg is in charge of keeping oiled and in excellent condition.
The punishment of a slave is always down to the Master's decision as to how severe the infraction is. A mild mistake, that we know people can make may be passed over or not, according to the opinion of the Master/Mistress involved. Some are far stricter than others. I like to think of myself as 'temperamentally lenient'; that is to say it depends on My mood.
Chains are supposed to be a form of punishment but it is hard to define them as punishment when they actually titillate the wearer more often than not, as is the case with greg. When I decided on his punishment (he had forgotten to press my 'going out' trousers) I chose chains because it was to be a reminder that, just as with Marley's ghost, each link he forged in service to Me would be a reminder of his devotion.
I had pick the chain out Myself, at the DIY store, carefully woven the chain around greg's midriff, across his shoulders, effectively dressing him, until I was happy with its setting, woven it between his legs, hooked into the cock ring and then pulled down, forcing him to his knees. For 12 long hours will be serve Me from the floor and will only kneel, lest he feel the tug of discomfort on his poor, big cock.
Of course, with punishment comes reward. After the 12 hours are up, we dispense with our chains role play and spend some quality time kissing him better.