Kept Restrained inside Closet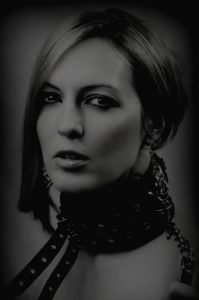 It's dark in the room where I sit.  Not completely dark, but dark enough that I can't really see much.  Not that there's anything to see.  It is a very small space.  There is barely room enough for the chair I sit on.
My knees are inches from the door and if I reached out to my sides I would be able to touch a wall on each side without extending my arms all the way.  That is, if I could move my arms to reach out, but I can't do that.  I can't move my arms because they are bound to the chair, in the room where I sit.
The chair is large and wooden.  My wrists are bound to the arms, my knees secured wide open to the sides and my ankles bound to the front legs.  Even if my feet were free they wouldn't be able to reach the floor.  I told you it was a large chair.  That's why it takes up so much space inside the tiny room where I sit.
At one time this used to be a linen closet in the master bedroom.  We kept towels and extra bedding in it, but the shelves had since been removed.  Now it is where I am kept.
I'm not kept here because I've been bad.  I'm kept here because He wishes it.  He wants me kept safe, when he puts me on display.  I am His fragile porcelain doll.  My hair is done in ringlets with ribbons and bows holding up the intricate design.  I have been meticulous with my make-up, creating the look He showed me in a picture; pale skin, red pouting lips, blushing cheeks and long dark eyelashes.
The clothes I wear look as if they should cover more than they do, but the cloth is so sheer it is merely an illusion of a dress. When the lights come on I know that more of my body will be shown than hidden.
I hear the whir of the cameras panning back and forth, zooming in and out.  He has several set up, all hooked to His computer in a live feed sent out over the internet.  He has many followers who pay by the minute to see His living doll.  The lights come up and the show begins.
He pans the camera slowly over my body, showing close up shots of my breasts behind the barely there cloth, moving down my pale arms to show the rope tightly wound around my wrist.  He even is able to get a fairly close up shot along my inner thighs where the cloth splits and almost shows what is His and His alone.  He shows the cyber world what they can never have, because I am His toy, His doll.
For the next hour I will not move, I will not make a sound.  I am nothing but a doll to be gazed upon, bound to this chair in this tiny little display case.  If I am very good and play my part well then He will take His doll from her box and play with her.