Discipline and Submission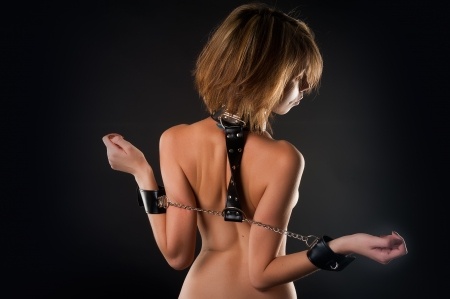 Discipline and submission is all around us. Some people are just naturally dominant.  They take charge in their daily lives easily and without thinking about it.  It just happens for them.  Would it surprise you to know that some of those same people go home after work and put on a collar and maybe a leash and they wait for orders from someone else?  In their private home life they are able to shed the responsibilities and stress of their public life and give up all control. They become the willing submissive or even slave of someone else.
Dominance and submission can come in so many different combinations and forms.  You can have a bedroom submissive, who only likes to give up control when it comes to sex. They like to be taken and told what and how and when to please their dominant.  Or there are couples who live a 24/7 power exchange, where the dominant controls every aspect of the submissive's life.  They tell them what to wear, when to eat, when to sleep and sometimes it even goes so far as controlling when they are allowed to go to the bathroom.
Imagine you aren't allowed to make eye contact, with anyone.  You are never to raise your gaze above chin level.  You are made to dress a certain way, only eat a certain diet, kneel when in the presence of your dominant, and you aren't allowed any form of sexual release of gratification unless given permission.  You try so very hard never to let down your dominant, there's such satisfaction in knowing that you have pleased them.  But sometimes you fail, and when you do there will be punishment.
Now imagine that you are in charge, dominant with a capital "D."  You give your submissive a set of rules, things to do and a way to live and you are confident they will carry out your wishes.  For them you are the final word.  You want your sub naked and waiting at the door when you get home?  They will be there.  You want them to wear their hair a certain way, dye it a certain color, or shave it all off.  It will be done.  They belong to you and they want nothing more than to please you.  You are their world.
So which side of the coin fits you? Here's our fun list to get you thinking.
List of discipline and submission kinks
Bathroom Use Control
Being Drugged
Begging/Pleading
Boot Worship
Chastity Belts
Chauffeuring (driving)
Chores (domestic service/housework)
Competitions (with other subs)
Enforced Chastity
Exercise (forced/required)
Eye Contact Restrictions
Following Orders
Foot Worship
Forced Bedwetting
Forced Dressing
Forced Eating (gaining or losing weight)
Forced Journaling of experiences
Forced Masturbation (home and/or away)
Forced Smoking/Smoking Fetish
Forced to Sleep not in Bed (e.g., on floor)
Given (Loaned) Away to another to use you
Hair Coloring
Hair Cutting
Hair Shaving (body/genitalia)
Hair Shaving (head)
Hair Waxing (body/genitalia)
Harems (serving with other subs)
Having Food Chosen for You
Having Clothing Chosen for You
High Heel worship
Humiliation, Verbal (private)
Hypnotism
Initiation Rites
Kneeling
Lectures (for misbehavior)
Led by a leash (private)
Manicures (giving)
Massage (giving)
Orgasm control
Orgasm denial
Personality Modification
Piercing (permanent)
Punishment
Scarification
Serving as Art
Serving as Ashtray
Serving as Furniture
Serving as Maid
Serving as Toilet (feces)
Serving as Toilet (urine)
Serving as Waiter/Waitress
Speech Restrictions
Standing in the Corner
Tattooing