Phone Sex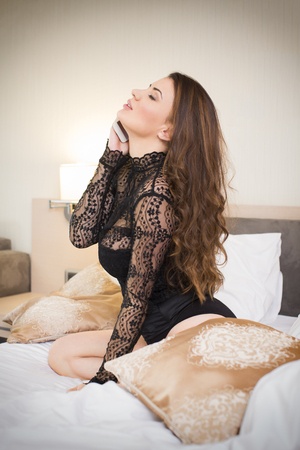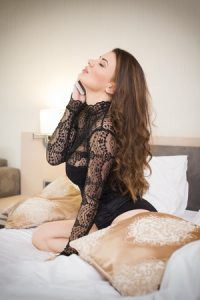 Chatting on the phone is something that is always fun, if it's with someone you get along with.  I used to be able to talk for hours and hours with a couple of my friends, passing the time, catching up and telling funnies. It's all good.  Chatting with someone we are attracted to, though…well that's a totally different kettle of fish and a completely different idea of 'fun'.
My girlfriend and I were talking on the phone once and we had been chatting for about an hour, when the conversation took a different tone. We started speculating about how people have phone sex. We had heard of it and obviously joked about it but suddenly we started to actually consider it; at least I did and I was pretty sure she was mulling it over, too.
I asked her what she was wearing and she told me that she had just gotten into bed before we had started out phone call. She said she was wearing the black lace lingerie that I had bought her. That put an immediate picture of utter sexiness in my head and my body started to respond with its own level of arousal.
I told her I liked how she described it and got her to whisper to me about her bedroom. She described the lighting, the décor, the bed, the accessories and in such a way that I felt as though I were in the room with her. She made space for me next to her so that I could pretend to lay with her as we talked.
"How does the lace feel against your skin?" I asked her, keeping my voice low and quiet.
I felt her sharp intake of breath as my words stroked her body and caressed her skin.
"It feels, soft, fine, tactile…." She said gently, "I like it….very much."
She asked me how it felt as I stroked her lacy skin with my hands. I switched the phone from my right hand to my left hand and stroked my own thigh, imagining it to be hers.
"I love touching your skin," I replied, still keeping my voice low.
I told her I was imagining stroking her inner thigh and moving up to caress her breasts, tweaking her extremely aroused nipples. I asked her to take off her bra so that I may kiss her skin and nibble her nipples. Her breath caught in her throat as I described how my tongue was playing with her areola, teasing it with my teeth and biting gently. Her breath became more labored and I could sense she was extremely turned on. We continued this for a few moments before I told her 'my' hands were moving to her mound of curly dark hair and I instructed her to slide her hand down her own body until she could feel her own arousal and excitement.
"Dip a finger in for a moment" I told her and she obeyed. I heard her gently sigh as her breath caught again in her throat. I think she was surprised by her own reaction and she gasped at the sight of her hand when she removed it.
"Oh my goodness," I heard her whisper. I could good feel the grin spread across her face "What do you do to me?" she questioned.
I smiled and told her to put the finger back and do what I was about to tell her to do…
From Ally and Chris in Australia