Bondage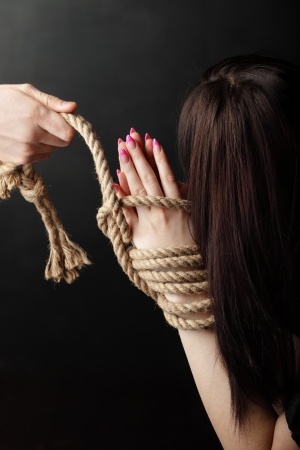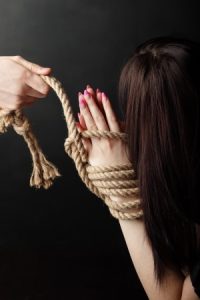 Bondage is a beautiful art that is practiced by many. There are so many ways to immobilize a person.  Tie them up, tie them down, hand cuff them to a chair or a bed or a post.  You can go for cages and shackles and even straight jackets, or you can just wrap a tie or scarf around their wrists.  It all depends on what feels best to you and the one being bound.
There's a certain thrill to having someone bound and at your mercy.  You have all the power, you control everything that happens.  They become your toy to play and you choose the games you will play, because they have chosen to put themselves in your hands.  Their trust can be a thrill in and of itself.
There's also something to be said for having your freedom of motion restricted, in part or completely.  You can be liberated from any responsibility beyond saying yes.  Blindfolded you can't see where they are or what they are about to do.  You can't move, no matter how you struggle against your bonds you can't escape…and that's just how you like it.  In bondage you might actually find freedom.
Like many aspects of an alternative lifestyle, it isn't always about sex.  There is also pleasure to be found in learning the ins and outs of bondage.  With rope you can learn to tie the many kinds of knots, where to place them, how to turn your play partner into a work of art.  You can have them walking around in your creation or hanging from the ceiling, suspended for all to see.  You can learn just how long a body can be kept encased in plastic wrap and how to ensure their safety.
You see, there's so much more to bondage than just getting off…although that's a lot of the fun as well. Here are some great bondage ideas for your consideration.
List of bondage kinks
Blindfolds
Bondage (light)
Bondage (heavy)
Bondage (prolonged)
Cages/Confinement (locked inside of)
Cuff Restraints (ankle and wrist)
Gags/Mouth Bits
Handcuffs/Shackles
Mummification
Saran Wrapping/Cling Film
Shibari (Intricate Rope Bondage)
Sleepsacks
Straight Jackets
Suspension